NEW at ESPNIC 2021: ESPNIC TV
We are very excited to bring you ESPNIC TV, an innovative new feature that we are launching at ESPNIC 2021. Through our state-of-the art virtual studio, we are facilitating live discussions with the worlds' leading experts on current advances and challenges in paediatric and neonatal critical care. ESPNIC TV will include day-to-day congress highlights, panel discussions, innovative sessions and interviews with prominent speakers, bring even more quality and value to your ESPNIC Xperience.
Be sure to check this page again soon as more information about ESPNIC TV will be available shortly.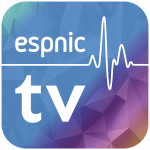 From the ESPNIC TV Studio: Martin Kneyber
From the ESPNIC TV Studio: Daniele De Luca